How to Create a Child Modelling Portfolio That Stands Out
Is your kid fun and energetic in front of the camera? Does your child love to socialise with people. Do they have excellent communication skills and loads of talent?
Then, child modelling might be a fantastic way for them to gain exposure and extra money.
Is your child right for modelling? That depends on many factors. For starters, your child should enjoy the modelling process and prove fully invested in the task at hand. They should thrive during auditions and photo shoots.
It's important to understand that delving into the world of child modelling represents a commitment for both you and your kid. A modelling portfolio ranks among the monetary and time-related investments you'll make.
You must fill this portfolio with the right shots to captivate agencies and clients alike. Keep reading for tips to help you put together a winning child modelling portfolio.
Modelling Portfolio 101
If you've got a motivated, enthusiastic, photogenic child who loves being the centre of attention, then modelling could be a perfect fit. That said, your child will also need to display good behaviour and have plenty of focus.
These characteristics stand to give your child an edge in the modelling world.
Nonetheless, you still have to play your cards right when it comes to getting the agency and client recognition your child needs to start earning money.
While some kids are lucky enough to get discovered while out and about, the majority have to work for recognition. Still, other kids know the right people and break in through the backdoor. But what if you don't have Hollywood-style connections or phenomenal good luck?
Then, you'll need to rely on a modelling portfolio to get your child's images in front of the right people. Assembling a portfolio remains the most crucial thing that you can do to set your child apart in the modelling realm.
As a result, this portfolio should effectively showcase your child's unique physical particulars and strengths. It should also be filled with the right shots to interest agents and clients.
Where will you submit this portfolio? That depends on your approach to breaking into child modelling.
Child Modelling: Two Ways to Break-In
There are two ways to break into the modelling world, and both require a portfolio of photos. The first path is the agency route and represents your best means of getting your child into modelling. After all, the industry is competitive and knowing the right people helps.
An agency can connect you to the right people and give your child a leg up in the industry. What's more, if you're looking to have your child model for larger companies, you should go with an experienced agency built on family values.
Sure, some companies do casting calls. But by and large, an agency remains your top way to gain new modelling opportunities. After all, brands around the world work with talent agencies to pull the best talent based on their criteria.
Because recognizable brands' shoots are larger productions, companies want a guarantee they're working with children that have been agency-tested and recommended.
There's also the DIY route, but it won't land your child the big-name gigs. If you're okay with smaller gigs and boutiques, however, it might be an option. That said, you'll need plenty of industry experience to make headway with this approach.
After all, you're acting as your child's agent. That can feel overwhelming and confusing for many parents, particularly those without a lot of experience with modelling.
You'll also need to keep in mind that the smaller gigs don't pay very well. If they do at all. Instead, kids may receive new photos for their portfolio or some products and clothing.
Learn more about managing your child's career.
Modelling Portfolio Requirements
How to start a modelling portfolio? Quality photographs naturally figure prominently in a model's portfolio. How do you pick the best shots to show off your child's natural charm and good looks?
Start by making sure that all the images you choose are high-quality with sharp, precise edges and the proper lighting. There should be no visible logos or brands on the pictures.
Besides making sure the photos are high-quality, you should also include a few standard types of shots. Since kids grow and change quickly, you'll need to be prepared to swap out these shots every six months or so.
The shots and items you should present include:
A headshot
A few full-length body shots
A resume
A physical description
Let's dive more deeply into each element of a winning child modelling portfolio. After all, the elements of the portfolio will impact your child's chances of being chosen for specific jobs.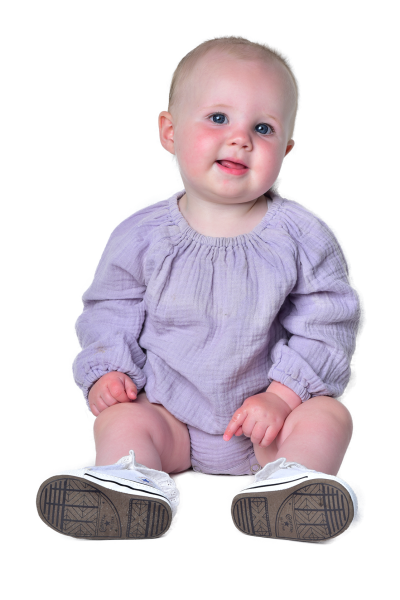 A Headshot
A headshot remains among the most vital aspects of a modelling portfolio. It should be an 8″x10″ photo. Depending on the age of the child, the requirements are slightly different.
For ages four through 13, kids should appear as natural as possible. That means no makeup whatsoever and unstyled hair. Make sure the lighting is excellent and that your child appears as authentic as possible.
Your child should look into the camera to demonstrate they can make eye contact. If you're dealing with an infant or toddler and can't get them to make eye contact, no worries.
Headshots carry less weight with babies, and their photos will often change to keep up with their corresponding physical transformation. Here are some tips for taking great children's portraits.
Full-Length Body Shots
Like headshots, full-length body shots are typically 8″x10″ although locations may have different requirements such as 9″x12″. That's why it's advisable to get copies of each photo in various sizes and keep them stowed safely so that they can be switched out if needed.
What should full-length body shots show? They should highlight different attire such as formalwear, sportswear, casual wear, etc. Besides the clothing your child wears, they should also clearly show your child's body build, stance, postures and proportions.
A Resume
Besides a selection of high-quality photos that show your child is photogenic and can pull off a variety of different looks, you'll want to include a copy of their resume. This resume will list all of their previous modelling experience.
This document should also list your contact information as well as your child's education and training.
What do you do if your child lacks experience? Enrol them in a few classes or workshops where they can develop relevant skills. Scouts and clients do consider these experiences when looking at modelling portfolios.
Besides including a resume, you should also add a short letter of introduction. This letter of introduction should make it clear that your child is a beginner but has developed specific skills through training.
As your child gains more work and new experiences, you'll want to update their portfolio approximately every six months.
A Physical Description
Last but not least, you'll want to include a simple physical description of your child. This description should include particulars such as their:
Height
Weight
Eye colour
Clothing size
Body measurements
Shoe size

You'll need to update this information, particularly when your child experiences a growth spurt. Besides obvious changes such as height and weight, some children experience changes in eye colour and hair colour as they get older, particularly as they transition from infants. Keep your child's portfolio up-to-date so that it represents their most recent look.
What to Avoid in Modeling Photos
What you choose not to include in your modelling photos is just as important as what you choose to include. According to top modelling agencies that work with thousands of children applicants each year, here are the things to avoid:
Hats are a no-no
No sunglasses
No food included
Head up, shoulders straight
Hair worn down
No dress-up
No face paint
Smiling and neutral expressions
A natural look
No naked photos
As you flip through potential photos to include in a portfolio, you want to avoid images that take the focus away from your child. (That's why headwear is a no-no.) As for sunglasses? They make it difficult for agents to see your child's eye colour.
There are also a variety of things that parents might deem cute that agencies ask you to avoid. These include photos with food smeared on your child's face. Again, this can prove distracting and take away from the photo's ability to showcase what your child looks like.
You should also make sure that all photos show your child fully clothed. That goes for babies, too. Again, parents love those cute bathtub shots, but they have no place in a modelling portfolio.
You should also make sure that your child has their head up and shoulders back in the photos that you submit. Why? Because it demonstrates a sense of confidence, something that modelling agencies gravitate towards.
Portfolio Formats
We've reached a day and age when many transactions and communications happen digitally, and this proves no less true when it comes to your child's modelling portfolio. It's much easier and more affordable to submit portfolios to different agencies electronically.
What's one of the best ways to transmit information about your child's portfolio? By sending it digitally or creating a page for it and adding the link in your child's cover letter.
It's also advisable to carry a portfolio in the form of an attractive hardcover expandable book. Always remember to bring this along for personal appearances. That way, you can make sure your child's photos get in front of the right people at the right time.
With a carefully cultivated and high-quality child modelling portfolio, you can help your child launch a beautiful career in the modelling business.
A Bright Future with Child Modelling
Businesses need engaging advertisements to bring in new customers. One of the best ways for companies to promote their products remains using real people through modelling in their promotions. Among the most adorable stars of the modelling realm are children.
But child models also get a lot from their experiences in the industry. For one, they gain exposure to the competitiveness of the world. And since kids are better at accepting the reality of competition, your child will gradually learn how the world works.
They'll learn how to deal with the competition of the world. How? By adapting to maintain good results and stay on top.
Modelling also helps children grow into adolescents and adults who make good decisions about their health. They do this to remain competitive.
Getting involved with the industry also builds self-esteem and helps children develop a positive work ethic. Not many people get to develop this kind of work ethic at such a young age. Early access to the work environment will translate into the right attitude to build a career later.
Modelling also helps children learn how to cope with rejection early on. The industry will teach them from a young age that not everyone appreciates certain people. In turn, kids learn to develop a thick skin and persistence when it comes to achieving success.
Why You Need a Kids Modeling Portfolio
If you've got a kid who naturally gravitates towards the centre of the room and loves getting their picture taken, then child modelling might be a fantastic opportunity for them. Of course, the industry is competitive, and the best way to navigate it is by working with the right agency.
To get represented by an agency, however, you'll need to compile a modelling portfolio that showcases your child's natural talents and physical appearance. With the tips above, though, you'll be ready to submit your child's portfolio to modelling agencies.
If you're the parent of an artistic child, we'd love to talk to you about getting them into the exciting world of child modelling and acting. Apply to our modelling agency and to our talent agency to discuss the possibilities for your child.